Hello everyone!  I hope this post finds you all in good spirits.  It has been quite sometime, as seems to be the story with the Greenhornknitter.  I have been very busy with school and family (my brother and sister-in-law came home from Spain over the summer), and life in general.  I simply haven't found time to share any of my little projects…until now.  Which comes just in time for some very knitty news….
Today I was contacted by Issy who teaches fashion and design at an institute here in Las Vegas.  She is working with others on a downtown Las Vegas project called The Stitch Factory which is a newly opened downtown project catering to young designers to learn and collaborate.  She found me via my blog and hoped to recruit me to teach knitting classes at the Factory.  I am so excited and cannot wait to get started.  I meet with her again on the 28th, so I will let you know more as I know more.
As for my knitting, I have a few adorable little projects to share, as well as some WIPs.
As some of you know, I was asked to knit flower pins for my sister-in-law's sister's baby shower.  It was quite the task, and I was very fortunate to have help from my mom.  Regardless of the hard work, it was very well worth it…as are most things that take hard work.  😉  They turned out to be absolutely lovely!  Have a look…
That's my hat!
OK, so knitting for babies is so much fun.  It's just enough of a challenge, but great for those immediate gratification types…like me.  The day before the shower, I was cruising the local Michael's in Costa Mesa, and happened upon a free pattern for baby booties.  I snatched the pattern, some heather grey yarn, and that was all she wrote.  I pumped out some baby booties in no time.
Of course, I couldn't get them both finished by the shower, so I had to do some stitching at the shower.  Later that night, she had a full pair.  🙂
As for what I'm working on now…
I have recently developed an obsession with knit ties.  They are everywhere right now!  And super pricey…
Peter Millar Oxford Knit $110
Lands' End $65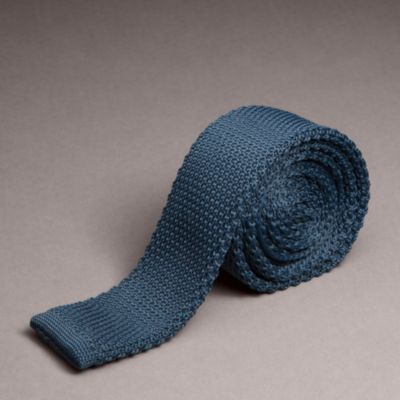 Fossil $48
The other, and only other, knitted gift I plan to give this year is a red copycat scarf just like the one in Sex and the City: